Disability Law Attorney in Gadsden, Alabama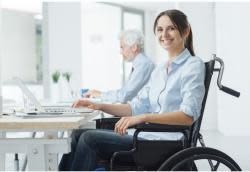 Don't make a lengthy or difficult legal process stand in the way of getting the benefits you deserve. Instead, turn to Scott F. Stewart for the help you need in filing your disability claim. When it comes to disability law in Gadsden, AL, I am very knowledgeable about all the details, which not only increases your chances of getting your claim accepted but also makes the entire process afterward easier to manage as well.
Even if you understand much of the legal jargon and know what to look for in your disability case, statistics show that applicants who are represented by legal counsel are much more likely to be approved than those who aren't. After you've been approved, I can assist with everything else you need until your case is closed.
The earlier you speak to me, the better. With my in-depth knowledge of disability law, I know what to expect during the case and can prepare you optimally for each step.
What Hiring the Right Disability Lawyer Can Do for You Although the initial application is important, there's much more work to be done afterward as well. Whether you're just thinking about applying for Social Security disability or you're stuck midway through the process, talk to me if you need help with any of the following:
Presenting the Most Favorable Case

Advising on Your Disability Onset Date

Arguing That Your Condition Meets Social Security Guidelines

Collecting and Submitting Medical Evidence

Obtaining Doctors' Opinions

Drafting Briefs to the Administrative Law Judge

Preparing You for Your Hearing
Contact me today to learn more about our disability law services. I work with clients throughout Gadsden, AL.